Gwent council tenants enjoy £20m energy efficiency upgrade
Caerphilly council housing tenants have benefited from a £20 million energy efficiency upgrade, just 12 months after plans to transfer the area's badly ageing housing stock to a social housing landlord was shelved due to lack of support.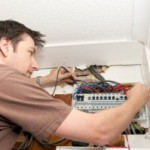 Last year Caerphilly tenants voted against a proposal which would see council control transferred to a new housing body. Tenants in 11,000 properties voted in force, with 65.2% voting in favour of remaining under council control.
To improve the energy efficiency of the council's remaining stock £5 million has been spent on installing energy saving condensing boilers and external wall insulation to 600 properties, while another 170 properties have benefited from new uPVC windows. And the council haven't stopped there. An additional £3 million has been put towards upgrading central heating systems, while £2 million was added to the pot for essential rewiring and another £3 million was spent on new bathroom installations and new kitchens in around 500 homes.
Around £200 million of investment is required to upgrade Gwent's ageing council properties if they are to meet Welsh Housing Quality Standard by 2020, which will ensure properties are adequately heated, well insulated and fuel efficient. The £20 million energy efficiency upgrade is just the tip of the iceberg. To help implement the £200 million programme a housing task group has been established, comprising of 14 members split equally between tenants and councillors.
Commenting on the home improvements, Cllr Gerald Jones said he was "thrilled"that tenants had chosen to put their trust in the council.